RULE 1 Pre Amino Energy
Tax Inclusive.
Free Shipping for Prepaid Orders.
🔖 Pay via MobiKwik Wallet & get up to 10% Cashback
*Minimum transaction value Rs 2000/-

Description
R1 Pre Amino Energy
Gives extra energy boost
Speeds up muscle recovery
Increases strength and athletic performance
R1 Pre Amino is a part amino part energy supplement that provides an essential amino acid boost and natural-source caffeine to help get you started and keep you going.
R1 Pre Amino can replace your morning coffee but be more specific to repairing muscle. It can be a midday pick me up or be used before a long session of study to help give you that extra energy boost. It can even be used as a pre-workout due to its diverse formula. R1 Pre Amino will not only help you perform better but will help you recover better too!
It has clean energy from green tea and coffee fruit extract, BCAAs and other amino acids to stop muscle breakdown, speed up recovery, and increase strength and pump.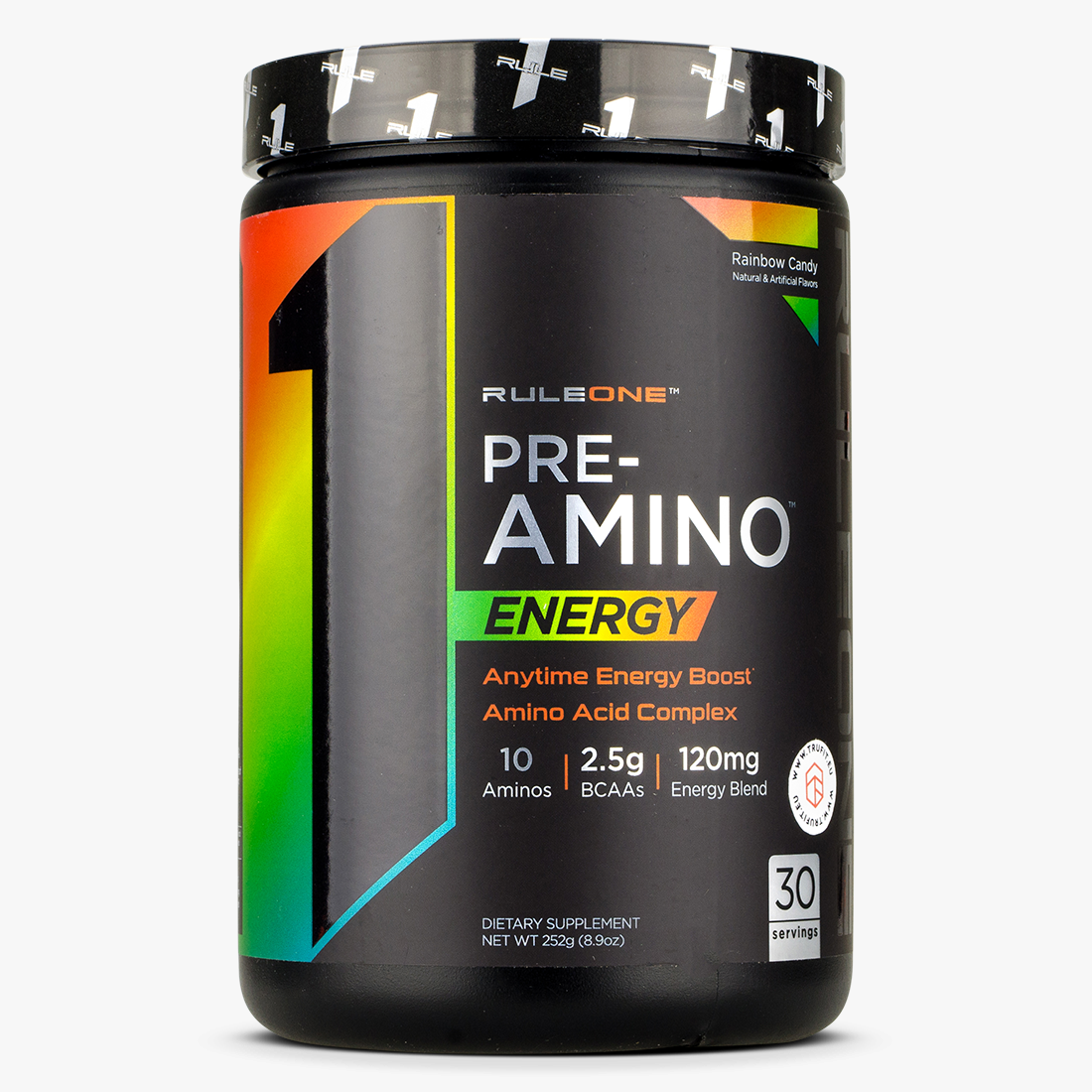 Directions
Mix 1 scoop of R1 Pre Amino with 180-240 ml of cold water or your favorite beverage and drink when you need an extra energy boost.
ADVISORY INFORMATION:
Store in a cool dry place. Do not exceed the recommended daily dosage. Do not use as a substitute for a varied and balanced diet. Keep out of reach of young children.
Although we make every effort to ensure product information is up to date, please always read labels, warnings, and directions provided with the product. If in doubt, please contact us or check manufacturer web page for more information on product.
ID-8663
Nutrition Facts
1 Serving Size:

 

8.4 g

Amount Per
1 serving
100 g
%DV*
Energy
5 kcal
21 kJ
58 kcal
244 kJ
**
Total Carbohydrate
1 g
11.6 g
**
R1 Amino Performance Blend
6 g
69.8 g
**
L-Leucine
1.25
14.5
**
L-Valine
625 mg
7268.8 mg
**
L-Isoleucine
625 mg
7268.8 mg
**
Beta-Alanine(CarnoSyn)
600 mg
6978 mg
**
L-Citrulline
600 mg
6978 mg
**
Betaine Anhydrous
600 mg
6978 mg
**
Taurine
600 mg
6978 mg
**
L-Glutamine
500 mg
5815 mg
**
L-Lysine
500 mg
5815 mg
**
L-Threonine
150 mg
1744.5 mg
**
L-Phenylalanine
100 mg
1163 mg
**
R1 Energy Blend
120 mg
1395.6 mg
**
Caffeine (Green Tea Extract), Organic Cofeeberry Whole Coffee Fruit Extract
* Percentage of Daily Value per one full serving.
** Daily Value is not established.
Ingredients / Other Ingredients:

 

Natural Flavours, Citric Acid, Malic Acid, Silicon Dioxide, Reb A (Stevia Extract), Red Beet Powder, Lecithin.
Info:

 

Ingredients and their nutrition values are shown for product in

 

Caribbean Punch flavor. Other flavors might have some differences.
DISCLAIMER: All the information and statements regarding the product haven't been evaluated by the Food and Drug Administration or any government authority. Products are not intended to treat, diagnose, cure and/or prevent any kind of disease. All the product reviews are of the users and based on their personal experiences and do not reflect the opinion of Body Building India or its website or its promoters. The product information provided by the sellers on Bodybuildingindia.com is not complete and therefore, please read the label on the product carefully to learn the complete information provided by the manufacturer. Equally important, the results of the products will vary from person to person and none of the individual effects should be seen as typical.